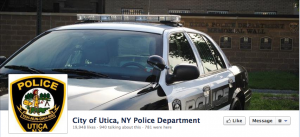 When dos a Facebook page become abusive? A friend of mine brought a recent article from the Utica Phoenix to my attention that shined a bit of light onto what's happening on an official Facebook page for our local Police Department and really got me thinking about the implications social media has on law enforcement and the justice system.
The official UPD page has been for quite some time now, posting recent mugshots with detailed descriptions of persons who are arrested (but not yet convicted) in the city to their Wall and Photo Galleries. Each mugshot is accompanied by the department's official statement as well as the names and addresses of those involved. These posts have been prime real estate for public shaming, not to mention strings of vicious and abusive comments under each post.
As Derek Scarlino points out in his piece, this kind of public shaming ignores the fact that at the time of the post, no one has been convicted of anything. But between the photos and comments, in the court of public opinion that person seems to already be guilty. Yes, this information is all public anyway. Police blotters are published in the newspaper, and public records are available, though inviting public comment and delivery to your Facebook feed daily creates another set of potential issues.
Additionally, as I've pointed out before, if it's digital, someone has it. And Google has a long memory. Regardless if the accused is found to be innocent, those photos, comments and stories are out there.
Finally, as Derek points out, the UPD Facebook page has almost 20,000 'Likes' – The city of Utica only has population of 62,000 people. While I'm quite aware that 1/3 of the city doesn't like the page, how does this information affect the jury pool or the ability of someone who is convicted of a serious crime to get a fair trial. Contrast this with what the page for the Albany NY Police Department releases.
There certainly is the argument that this kind of shaming is a deterrent for people who are may commit a crime, or that the public has a right to know about crime rates and statistics that affect their neighborhood and community. But I feel like the posting of all this information, including photos, makes this Facebook page a sideshow instead of a place where people should look to get important information about the activities of law enforcement in our community.
Further, I think this does a disservice to our police officers themselves, who work each day to keep us safe. I have friends who are police officers and they're extraordinary individuals who do a very difficult job day in and day out.  Instead of using their page as a tool to build trust, foster goodwill in the community, and share important information with the public- when those kinds of posts become the focus of the page I feel like it disparages the reputation of the City, it's officers and potentially violates a person's constitutional right to due process. Certainly check out Derek's piece at the Utica Phoenix. It's very opinionated but really got me thinking.
I'm really interested in your opinions on this, no matter where you stand. Is this practice a deterrent or an distraction? Should there be limits to what municipalities can posts regarding personal information or crimes? Is this a question of social media best practices or something more? Let me know in the comments, and please…be respectful of each other's opinions.