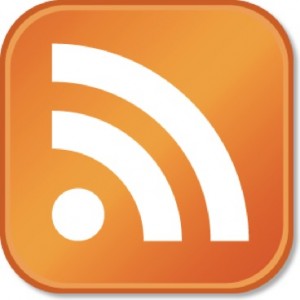 In my opinion – the tool in the social media toolbox that is the most underrated and that folks that I talk to at businesses know the least about is RSS. So here's a quick primer.
What the F*%$ is RSS? It's a great way to keep tabs on your favorite blogs and websites without having to visit each site every day, checking for new content (and stands for Really Simple Syndication). That little orange button you see all the time doesn't mean 'BLOG', or 'Wi-Fi', it's a link to the RSS feed of that particular site.
By loading the feeds of your favorite sites in an RSS Reader, new stories will automatically be delivered to you and checked off as you read them. So what RSS reader do I recommend? I loves me some Google Reader. It allows me to easily add feeds from sites that I like as well as tag posts, and organize blogs into categories for easy browsing. Google Reader allows me to easily follow upwards of 100 blogs I like to read on a regular basis without having the sheer amount of content get overwhelming. Tagging and sharing posts that I like allow me to keep up with the latest news in social media, tech, business, travel, and the blogs of friends.
Now there's plenty of other RSS readers besides Google Reader out there (I'm in love with Reeder for iPad), but I just wanted to get some of you started who may not be using RSS as a tool in your social media toolbox.
So if you do one thing this week when it comes to using a new tool – sign up for a Google Reader account (if you have gmail or a Google account by default you have a Reader account) and go subscribe to 10 blogs (including this one). I think you'll be amazed at how much easier it is to manage that data flow.
Speaking of RSS, I've started another little project for myself to try to document my 30th year. Small Things will be a stream of content that will NOT be part of my regular blog feed or really promoted via Facebook / Twitter- but available as a separate feed here on the website. Read more about the project and I hope you'll consider subscribing.
Questions, comments, concerns? Fire away in the comments.
Oh, and if you are using RSS – what are some of the blogs you think people should subscribe to?