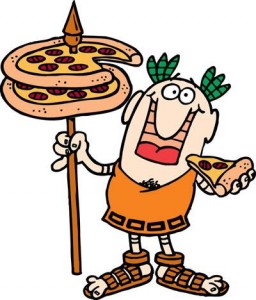 It's hot and sunny here in upstate New York and for some reason it's made some businesses think it's already Halloween.
Last week on my drive home I drove past Little Caesar who was dancing and waving a sign for $5.00 pizzas on the side of the road as well as a guy dressed as a Giant Taco (I shall henceforth call him Taco-Man) pushing a special on burritos. Oh yeah, and just a regular non-costumed guy (unless you want to call him Super Bored Man) holding a sign telling me that I need to sell my gold jewelry now for top dollar on yet ANOTHER major intersection.
I'm actually a bit surprised that I haven't seen anyone dressed as the statue of liberty on the side of the road advertising tax services – then again it wouldn't be timely or targeted (as if these kinds of tactics are targeted).
Is this the most creative use your marketing budget? Have we as a species run out of creative ideas to attract customers? Granted, those giant taco suits aren't cheap…but really?
How about instead of having Billy change into Taco-Man you worked to cultivate a following with some killer deals (Taco Tuesday, anyone?) or an event centric atmosphere that gives like-minded people a place to connect and grab a bite? There's no reason bike-night should or needs to happen at a local McDonalds or Arby's. Look around your area, find a group that isn't having their needs met – and sponsor them through specials, cash or even a place to gather. Little Caesar should be making pizzas, not waving down traffic.
What do you think? Do street characters get your attention and impact your purchasing decisions? Fire away in the comments…