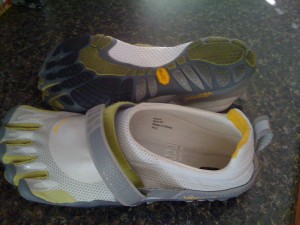 Recently I took part in the nation's biggest 15K road race – The Boilermaker – which is held in my hometown of Utica, NY. It was my 4th time running but my 1st time competing in Vibram Five Fingers. I've been practically living in my pair of KSOs since I purchased them in May of 2009 (well, at least when there wasn't a foot of snow on the ground) and started my training for the 15K in them over the winter.
While I loved running in the KSOs, I was fortunate to snag a new pair of Bikilas in May.  This changed everything. The Bikilas were even more comfortable than the KSOs and training was a blast in them. They provided a minimal layer of padding to help with the repeated impact of the pavement over 15K while still giving me the barefoot feel and flexibility.
This year's Boilermaker was the largest in history with over 13,000 runners and an enormous post-race party at the Saranac Brewery (I can't think of another road race where you get a free beer immediately after running it). The amount of spectators was also amazing and they really kept you going throughout the different sections of the course with water, music, and yes, even vuvuzelas.
I also noticed some other fellow VFF runners while at the starting gate as well as a one runner who was completely barefoot. The race itself was perfect this year from the temperature to a ton of volunteers who made sure the weekend's events were memorable for both the runners and the spectators. It's a weekend where our community really comes together and makes you proud to be a participant. As I crossed the finish I also broken my own personal best time, finishing in 1:20:08.
Lots of the discussion around barefoot running (and running in VFFs) has to do with running form and injury prevention. While these are all great benefits to leaving your sneakers behind, that's not why I love them. For me, the tactile experience and flexibility simply made running fun again for me. It made me want to challenge myself, work hills, run for time and most importantly get out there and put some miles on. This was the first year I can remember enjoying my training regiment and consequently worked harder up to the race.
Combine that preparedness with the spectacle that is the Boilermaker and you have the perfect combination of competition and celebration. I can't wait for the next 15K!