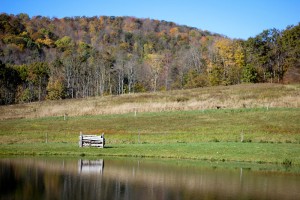 My friend Tim just started his own blog and had a post that broke me out of writer's block, so thanks for that.
This past weekend was spent in the company of some truly great friends down in Ithaca in the middle of my favorite time of year. We filled it with great music, black coffee, red wine, fresh eggs and open spaces to take in a bit more light and heat before winter rushes in. Even my drive home was spent navigating as many back country winding roads as I could before having to hop on the highway so that I could drink in the colors and the smells that you'll only see during autumn in upstate NY.
Autumn is always my favorite time of year – for the smells, the complexity of color and so many other things. Plus the whole change metaphor just punches you in the face. I don't think we have another season in the northeast that demonstrates so fully the idea of change as the Autumn. It's the kind of change I think we're good at handling – which is to say that it's expected and cyclical. Change isn't so bad when we can see it on the horizon or out our kitchen window.
It's nature putting on a fireworks show for us, shouting 'Look at Me' – inviting us to take one last look before it's time to hunker down for a cold winder.
I usually tend to have at least one project that gets fulfilled every winter, with time spent in the dark quiet evenings with nothing nothing to do but to work on it, refine it, and get things ready for spring. Whether that's been making a record, working on the boat, increasing my culinary acumen or curling up with some good books, I seem to be most productive during the colder months.
Right now though I don't know what that project is going to be. I have some ideas in the hopper, but none have been flushed out. I'll be sure to keep you posted when that decision is made, but for now I'm content to sit back and watch the fireworks show.
So, what are YOU working on this winter? If you don't know, get one. Winter is coming – and it's a perfect time to flush out that business plan, that painting, that blog, that book – and regularly iterate until the snow melts.