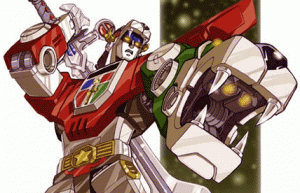 Remember Voltron? When I was a kid I used to love that cartoon. You'd think that with those bad-ass robot lions the universe would be safe. But you'd be wrong. Because every episode some bad guy came along that couldn't be defeated by the lions alone, not matter what they did. The same thing happened on every. single. episode. They had to combine to form freakin' Voltron, and only then could they defeat everything in their path.
But why wouldn't they just form Voltron at the beginning? I think that would have saved a ton of time, but then again, it wouldn't have been much of a show (update: rented Voltron on Netflix and is isn't much of a show through the eyes of a 20-something…in fact it sucked pretty bad).
Where am I going with this? I think a of people are seeing the value of social media and realizing that these tools can really affect your business. But we need to remind ourselves that it's not a social vs. traditional world we're living in. To have maximum impact, you need find out which channels, online and offline provide the best mix of message, experience, and sharability. In short, step back and look at where you're putting your marketing dollars and determine if your message is effective and consistent both as letter and number and bits and bytes. Figure out how social can reinforce traditional and vice versa. Then Voltron your marketing from the beginning. You'll see how much faster you'll conquer the universe.