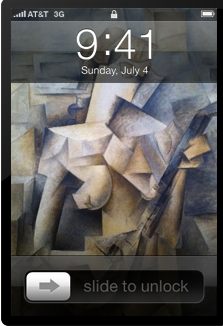 This past weekend I hopped down to New York City to spend some time with some amazing friends, but also to check out one of my favorite bands ever, Over The Rhine. The show as awesome, to say the least but I thought I'd just share a couple of observations that I had while schlepping around Manhattan.
Since I had an afternoon all to myself, I went to MoMa for the first time and had a really wonderful time checking out all the exhibits. To be able to see some Warhols, Polllocks and amazing amount of Picassos all in one place was really cool. The piece that was simply a 12 in section of torn cardbord in a frame….well, I'm no art critic but there were definitely things I didn't understand or appreciate.
I did however notice that an amazing amount of people were scurrying through the different floors and photographing every work of art that they liked or had seen before as a dorm room poster, with their cell phones. Hundreds of people, shooting hundreds of shots, textures, and group photos.
MoMa also has a pretty decent audio tour and iPhone app that guides you through the museum and provides some context to the exhibits and more famous works. I really felt like visiting this museum in particular was very much a social experience as much as it was a cultural or art-centric experience. Why do so many of us feel the need to take a low resolution cell phone photo of the piece we had as a poster in our dorm room, or have seen online? There are hundreds of pictures of Henri Matisse's The Dance online – do we really need a cell phone version? No, but what the integration of the MoMa app, and a relatively lax photography policy has fostered is that going to MoMa (even alone) has become quite a social experience. We want to share the highlights of where we were, give our online network some context and content of where we are and what we're about.
But is it good for art? Does it enrich the experience of visiting an art museum like MoMa for art's sake? Do those cell photos posted to Facebook help expose people to fine art who wouldn't normally take the time to look? Or does all this sharing take away for the experience of sitting (or standing) and reflecting on the emotions a piece brings out. I don't know. But I suspect that Picasso could never have dreamed that his work would exist as cellphone wallpaper on thousands of phones. Regardless, I think MoMa understands that everything is now both a digital and social experience through social media and mobile technology, and they have for the most part embraced that same tech to provide visitors with some background and context of the pieces in their collection while also recognizing that some folks just want the social proof of sharing with their network where they are…or a Picasso as their cell phone background. What's your take?