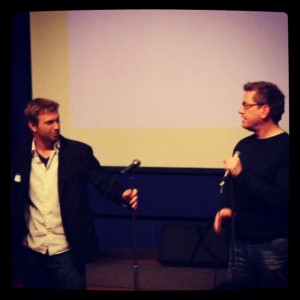 I dabble in lots of projects… Music, travel, cooking, climbing, storytelling, writing and most recently filmmaking. None of which are my day job. And yet there have been numerous times when I've been introduced as 'Miller – the musician' or 'Ryan – the social media guy,' 'the Firefly guy' and most recently 'the film maker.'
I was on the radio the other morning promoting an event and short film that I've made with my friend Geoff Storm as part of the Utica Firefly storytelling series we began almost a year and a half ago. And when I was asked about making of the film I jumped in and said "….but keep in mind, we're not really filmmakers….we just figuring this out as we go." Or when I've been asked about my record or songs I've replied with 'it's something I just have always done – don't know that I'm a REAL musician.'
And I got to thinking I really wish I hadn't said that. I shouldn't hedge, nor apologize for thing things I make. Who says we're not filmmakers? Our latest project documentary project 'Starting Over' is not only a proper short documentary, it's technically the 3rd one we've released. Who says I'm not a 'real' musician? The last album was probably the 10th project I've been a part of.
What's the threshold for claiming an identity? for claiming expertise? Its going to vary from person to person, but I'd argue that it's ability to ship. To succeed in bringing art into the world as a finished entity. And then to do it again.
So if you want to be a writer, go write. If you want to be a musician, make music. And if you want to be a filmmaker, make some films, take criticism, iterate, and make more. Own it. Decide what to be, and go be it.
If you're curious you can view Starting Over at the official website or check out other projects here.
When nothing is owed or deserved or expected
And your life doesn't change by the man that's elected
If you're loved by someone, you're never rejected
Decide what to be and go be it  – The Avett Brothers